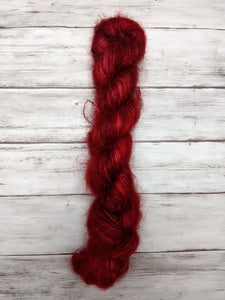 Yardage: 455 yd./416 m.
Gauge: 8-10 stitches per 1" on US size 000-1 needles
72/28 kid mohair/silk
50 gram skein
In the eerie quiet of the darkened house, she follows the path set before her. The crimson footprints lead her up the stairs. What awaits her at the top? There's only one way to find out... Snuggle up in front of your favorite thriller with this rich blend of scarlet, crimson, and cranberry. As bright as holly berries, with depth and elegance, this is the perfect Christmas red.
I use professional quality acid dyes to ensure vivid colors that will last. No two skeins are identical: if you need more than one skein for your project, be sure to alternate rows to ensure variegation. Please note that each skein is a unique work of art and may not exactly match the photos, but will be very close. I may reskein your yarn before shipping to avoid tangles if necessary.
Want your skein shipped ready to knit? Click here to get it wound into a center pull cake! Remember to add one cake winding per skein you want caked!