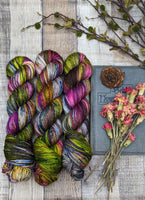 Summer Flowers
New Colors bursting with the joy of summer, bright blossoms, and carefree days!
Shop New Colors Now
What makes Potion Yarns different?
With so many hand dyed skeins available, why choose our yarns?
Here's what you get when you buy Potion Yarns:
-luxurious, high quality fibers in tidy skeins
-super saturated colors
-unique color combinations
-dimensional skeins created from layers of rich color
Plus when you shop with us, you are supporting a real, young family who is grateful for your business! Thank you for shopping with us and allowing us to live our dream!