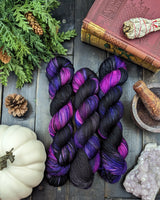 Autumnal Elegance
Gorgeous color combos and luxury fibers that will have you itching to cast on. Check out all the new things in store!
Shop New Items
What makes Potion Yarns different?
With so many hand dyed skeins available, why choose our yarns?
Here's what you get when you buy Potion Yarns:
-luxurious, high quality fibers in tidy skeins
-super saturated colors
-unique color combinations
-dimensional skeins created from layers of rich color
Plus when you shop with us, you are supporting a real, young family who is grateful for your business! Thank you for shopping with us and allowing us to live our dream!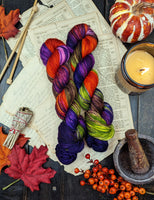 Get Lucky with Mystery Grab Bags!
Choose your yarn type and get a randomly selected special skein! Made up of oopsies, test recipes, test yarns, and random leftovers, Mystery Grab Bag skeins are a great way to get quality hand dyed beauty for a fraction of the cost.
Try a Mystery Skein Now!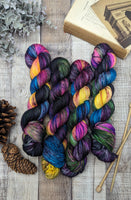 Fall in love with autumn colors