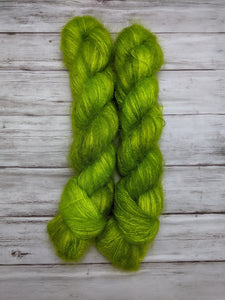 Yardage: 455 yd./416 m.
Gauge: 8-10 stitches per 1" on US size 000-1 needles
72/28 kid mohair/silk
50 gram skein
She's sexy and bold but with elegance and class; the kind of fairy you can't resist. Is it a hallucination or is she that weirdly wonderful, that tantalizingly intense? When Lady Absinthe has you in her thrall, you'll never want to sober up! This gorgeous tonal is subtle in it's dimension but rich and saturated for a unique and incredible skein. Avocado, acid green, and chartreuse combine to create a light yellow-y green that's perfect on it's own or sensational mixed with deeper and darker colors! 
I use professional quality acid dyes to ensure vivid colors that will last. No two skeins are identical: if you need more than one skein for your project, be sure to alternate rows to ensure variegation. Please note that each skein is a unique work of art and may not exactly match the photos, but will be very close. I may reskein your yarn before shipping to avoid tangles if necessary.
Want your skein shipped ready to knit? Click here to get it wound into a center pull cake! Remember to add one cake winding per skein you want caked!