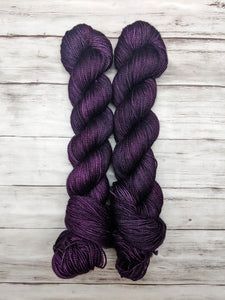 Yardage: approx. 400 yd./366 m.
Gauge: 7-8 stitches per 1" on US size 1-3 needles
80/20 superwash merino/silk
1: a collection of individuals with similar interests or activities
2: an assembly or band of usually 13 witches
Everybody needs a group of likeminded individuals to lean on, learn from, and build a community with. Hold your group closely and keep your secrets safe! This color drapes dark burgundy and wine with an inky midnight glaze for a rich semi-solid full of mystery.

I use professional quality acid dyes to ensure vivid colors that will last. No two skeins are identical: if you need more than one skein for your project, be sure to alternate rows to ensure variegation. Please note that each skein is a unique work of art and may not exactly match the photos, but will be very close. I may reskein your yarn before shipping to avoid tangles if necessary.
Want your skein shipped ready to knit? Click here to get it wound into a center pull cake! Remember to add one cake winding per skein you want caked!