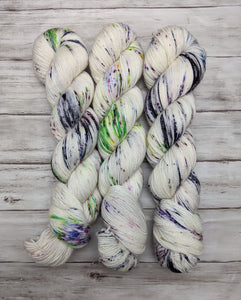 Yardage: approx. 400 yd./366 m
Gauge: 7-8 stitches per 1" on size US size 1-3 needles
80/20 superwash merino/nylon
Out partying a little too hard last night? After copious amounts of tequila, you may need a little hair of the dog that bit ya: try some Mezcal in the morning to chase away that hangover! The perfect companion to my Tequila Shots at Midnight colorway, this beautiful speckle mixes green, purple, gray, and black on a bright white background. It's just the thing to help you face your morning!
I use professional quality acid dyes to ensure vivid colors that will last. No two skeins are identical: if you need more than one skein for your project, be sure to alternate rows to ensure variegation. Please note that each skein is a unique work of art and may not exactly match the photos, but will be very close. I may reskein your yarn before shipping to avoid tangles if necessary.
Want your skein shipped ready to knit? Click here to get it wound into a center pull cake! Remember to add one cake winding per skein you want caked!