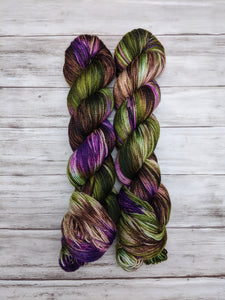 Yardage: approx. 400 yd./366 m
Gauge: 7-8 stitches per 1" on size US size 1-3 needles
80/20 superwash merino/nylon
"There is a stubbornness about me that never can bear to be frightened at the will of others. My courage always rises at every attempt to intimidate me."
Elizabeth Bennet is perhaps Jane Austen's best loved heroine, and certainly her most popular. Lizzy displays a good heart, quick wit, and a willingness to acknowledge and learn from her mistakes that make her an inspiration. I've tried to capture her character with this beautiful blend of shades: fern green and rich, deep brown reflect Lizzy's love of nature and long walks, while the flashes of amethyst and violet speak of her nobility of character, and her unique femininity that leave her irresistible to the reserved and haughty Mr. Darcy.
I use professional quality acid dyes to ensure vivid colors that will last. No two skeins are identical: if you need more than one skein for your project, be sure to alternate rows to ensure variegation. Please note that each skein is a unique work of art and may not exactly match the photos, but will be very close. I may reskein your yarn before shipping to avoid tangles if necessary.
Want your skein shipped ready to knit? Click here to get it wound into a center pull cake! Remember to add one cake winding per skein you want caked!